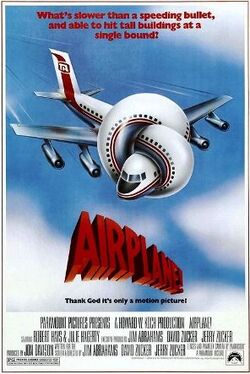 Airplane! is a 1980 comedy film.
Singing roles
Edit
Non-singing roles
Edit
Ex-fighter pilot and taxi driver Ted Striker became traumatized during an unnamed war, leading to a pathological fear of flying. As a result, he is unable to hold a responsible job. His wartime girlfriend, Elaine Dickinson, now a flight attendant, leaves him. Striker nervously boards a Boeing 707 (Trans American Flight 209) from Los Angeles to Chicago on which she is serving, hoping to win her back, but she rebuffs him.
After dinner is served, many of the passengers fall ill, and fellow passenger Dr. Rumack deduces that the passengers have contracted food poisoning from the fish. The cockpit crew, including pilot Clarence Oveur and co-pilot Roger Murdock, have also been affected, leaving no one to fly the plane. Elaine contacts the Chicago control tower for help, and is instructed by tower supervisor Steve McCroskey to activate the plane's autopilot, a large inflatable pilot doll (listed as "Otto" in the end credits), which will get them to Chicago, but will not be able to land the plane. Rumack convinces Ted to fly the plane, though Ted feels unable to handle the pressure and the unfamiliar aircraft.
McCroskey knows that he must get someone else to help take the plane down and calls Rex Kramer. Kramer was Ted's commanding officer in the war, and despite their hostile relationship he would be the best choice to instruct Striker. As the plane nears Chicago, Ted is overcome by stress and can land the plane only after a pep talk from Dr. Rumack. With Kramer's advice, Ted is able to land the plane safely with only minor injuries to some passengers. Ted's courage rekindles Elaine's love for him, and the two share a kiss. "Otto" takes off in the evacuated plane after inflating a female companion.
Musical numbers
Edit
"The River of Jordan" - Randy
"Everything's Coming Up Roses" - Hurwitz
Ad blocker interference detected!
Wikia is a free-to-use site that makes money from advertising. We have a modified experience for viewers using ad blockers

Wikia is not accessible if you've made further modifications. Remove the custom ad blocker rule(s) and the page will load as expected.