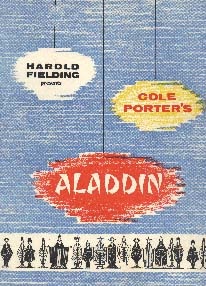 This is about the 1959 musical. For other productions see Aladdin (disambiguation).
Aladdin is a 1959 musical.
Musical numbers
Edit
Act One
"Aladdin" - Chorus
"There Must be Someone for Me" - Aladdin, Wishee, Washee
"No Wonder Taxes are High" - Aladdin and Twankey
"Come to the Supermarket (in Old Peking)" - Aladdin and Chorus
"Make Way for the Emperor" - Grand Vizier and Chorus
"Aladdin" - Princess and Chorus
"Opportunity Knocks But Once" - Twankey and Abanazar
"Wouldn't It Be Fun" - Emperor
"I Adore You" - Princess and Aladdin
Act Two
"Cherry Pies Ought to be You" - Aladdin and Princess
"I Am Loved" - Princess and Chorus
"Ridin' High" - The Hunters
"Trust Your Destiny to a Star" - Emperor and Twankey
Ad blocker interference detected!
Wikia is a free-to-use site that makes money from advertising. We have a modified experience for viewers using ad blockers

Wikia is not accessible if you've made further modifications. Remove the custom ad blocker rule(s) and the page will load as expected.