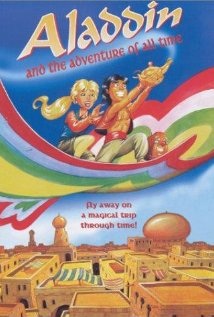 Aladdin and the Adventure of All Time is a 2000 animated film.
Singing cast
Edit
Non-singing cast
Edit
When a girl named Paige brings Aladdin to the future, she finds herself on an adventure that will take her through time and space.
Musical numbers
Edit
"Paige" - Paige
"Book Song" - Paige, Jack, Humpty, Alice, Kids and Adults
"S'posed To Be: Blackbeard" Performed By Randy Crenshaw
"S'posed To Be: Cleopatra" - Cleopatra
"S'posed To Be: Scheherezade" Scheherezade
"Paige" (reprise) - Paige
"S'posed To Be: King Henry VIII" - Henry VIII
"Queen of Mean" - Scheherezade
"Time Stands Still" - Paige and Aladdin
"Paige" (second reprise) - Paige
Ad blocker interference detected!
Wikia is a free-to-use site that makes money from advertising. We have a modified experience for viewers using ad blockers

Wikia is not accessible if you've made further modifications. Remove the custom ad blocker rule(s) and the page will load as expected.