This is about the film. For the revue, see Alive and Kicking (musical).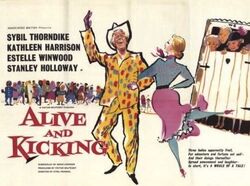 Alive and Kicking is a 1964 comedy film.
Singing cast
Edit
Non-singing cast
Edit
Three elderly ladies tire of living in an old people's home and when they heard that they are about to be separated, they make a bid for freedom. They escape to an island off the Irish coast and are about to occupy a group of cottages when the owner, an Irish millionaire, just returned from making his fortune in America, appears on the scene.
Musical numbers
Edit
"What Shall We Do With the Drunken Sailor?" - Dora, Rosie & Mabel
Ad blocker interference detected!
Wikia is a free-to-use site that makes money from advertising. We have a modified experience for viewers using ad blockers

Wikia is not accessible if you've made further modifications. Remove the custom ad blocker rule(s) and the page will load as expected.