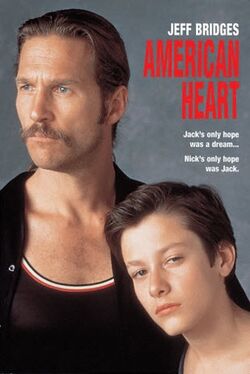 American Heart is a 1992 drama film.
Singing roles
Edit
Non-singing roles
Edit
Recently released ex-convict Jack Kelson (Jeff Bridges) as he struggles to begin a new life outside of prison and build a relationship with his estranged teenage son Nick.
With the deck stacked against them, Jack falls back on old habits as they struggle amid the vagrants and criminals of an impoverished section of Seattle. Just when it appears that they might succeed, Jack's past comes back to haunt him.
Musical numbers
Edit
"The Sunny Side of the Street" - Jack
Ad blocker interference detected!
Wikia is a free-to-use site that makes money from advertising. We have a modified experience for viewers using ad blockers

Wikia is not accessible if you've made further modifications. Remove the custom ad blocker rule(s) and the page will load as expected.