This is about the second film. For the original film, see Anything Goes (1936 film). For the television film see Anything Goes (1954 film). For the play on which they are based see Anything Goes (musical).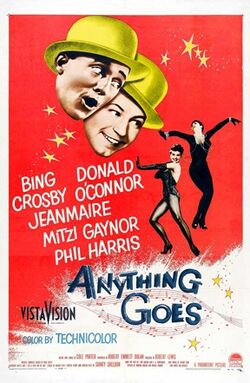 Anything Goes is a 1956 film based on the musical of the same name.
Showbiz partners Bill Benson and Ted Adams each travel to Paris to sign a dancer to star in their new show. The problem? There is only one role, and the men have unknowingly cast two dancers, Patsy Blair and Gaby Duval. It is up to the men to sort out their mess on the cruise back to America.
Musical numbers
Edit
"Ya Gotta Give The People Hoke" - Bill and Ted
"Anything Goes" - Patsy
"I Get A Kick Out Of You" - Zizi
"You're The Top" - Bill, Patsy, Ted and Gaby
"It's De-Lovely" - Patsy and Ted
"All Through The Night" - Bill
"You Can Bounce Right Back" - Ted
"A Second Hand Turban And A Crystal Ball" - Bill and Ted
"Blow Gabriel, Blow" - Bill, Patsy, Ted and Gaby
Ad blocker interference detected!
Wikia is a free-to-use site that makes money from advertising. We have a modified experience for viewers using ad blockers

Wikia is not accessible if you've made further modifications. Remove the custom ad blocker rule(s) and the page will load as expected.