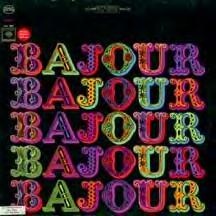 Bajour is a stage musical based the short stories Gypsy Women and King of the Gypsies by Joseph Mitchell.
New York University anthropology student Emily Kirsten studies the customs of the Dembeschti tribe of nomadic gypsies for her Ph.D. thesis. This brings her in contact with tribal leader Cockeye Johnny Dembo. He works out of a dilapidated storefront in a Manhattan slum and needs to raise $9,000 to purchase Anyanka from the Moyva King of Newark as a bride for his handsome son Steve. Anyanka is so anxious to seal the deal she offers to stage a bajour to help finance it, and complications ensue when she targets Emily's widowed mother as her victim.
Musical numbers
Edit
Act I
"Move Over, New York" - Johnny and the Dembeschti
"Where Is the Tribe for Me?" - Emily
"The Haggle" - Anyanka, Steve, Dembeschti Men and Moyva Men
"Love-Line" - Anyanka
"Words, Words, Words" - Emily and Johnny
"Mean" - Anyanka
"Must It Be Love?" - Emily
"Bajour" - Anyanka, Emily, Johnny and the Dembeschti
Act II
"Soon" - Anyanka, Steve and the Dembeschti
"I Can" - Anyanka and Emily
"Living Simply" - Lou, Emily and the Patrolmen
"Honest Man" - Johnny and Newark
"Guarantees" - Momma
"Love Is a Chance" - Emily
"The Sew-Up" - Anyanka, Momma and the Dembeschti Women
"Move Over, America" - The Dembeschti
Ad blocker interference detected!
Wikia is a free-to-use site that makes money from advertising. We have a modified experience for viewers using ad blockers

Wikia is not accessible if you've made further modifications. Remove the custom ad blocker rule(s) and the page will load as expected.