This is about the film. For the stage musical, see Bend It Like Beckham (musical).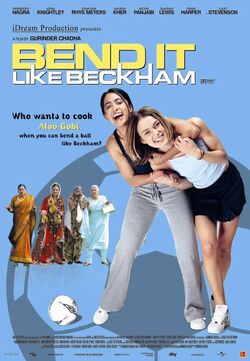 Bend It Like Beckham is a 2002 comedy drama.
Singing cast
Edit
Non-singing cast
Edit
Jesminder "Jess" Bhamra is the 18-year-old daughter of Punjabi Sikh Indians from Hounslow in west London. Jess is infatuated with football but her parents have forbidden her to play because she is a girl. She plays in the park sometimes with her good friend Tony, a closeted homosexual and his buddies, where her skills draw the attention of Juliette "Jules" Paxton, who plays for the women's team of the local club, the fictional Hounslow Harriers. Their coach, Joe, is impressed with her play and puts her on the team. Jess pretends to have a job to play with the team and Jules and Jess become best friends, despite the fact that both are attracted to Joe. Jess enlists her sister Pinky to cover for her when the team travels to Germany for a big match, but everything unravels when Jules spies Joe kissing Jess, causing a breach between them, and Jess's parents find out and forbid her to continue. Meanwhile, Jules's mother wrongly thinks Jules is a lesbian and the girls' spat is a lovers' quarrel. Jess's parents are confronted by a similar accusation before Jess reveals the truth about her attraction to Joe.
While the elder Bhamras are distracted by the elaborate preparations for Pinky's upcoming wedding, Jess continues to play and the Hounslow Harriers make their way towards the top of the league. Joe encourages Jess to come clean with her parents and eventually approaches Mr. Bhamra to explain she has a chance to win a prestigious scholarship, but Mr. Bhamra refuses to believe it. Jess and Jules must sort their differences, make peace with their parents, and overcome cultural prejudice to win the league championship, and earn scholarships to Santa Clara University in California.
Musical numbers
Edit
"Hot, Hot, Hot" - Bina Mistry and the Cast
Ad blocker interference detected!
Wikia is a free-to-use site that makes money from advertising. We have a modified experience for viewers using ad blockers

Wikia is not accessible if you've made further modifications. Remove the custom ad blocker rule(s) and the page will load as expected.