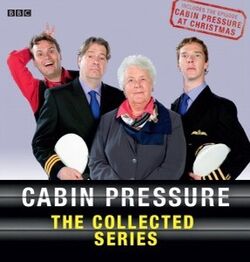 Cabin Pressure is a British radio series written by John Finnemore.
Regular cast
Edit
Guest Cast
Edit
Cabin Pressure concerns a charter airline with a single ramshackle plane, run by battleaxe Carolyn Knapp-Shappey, and staffed by her optimistic but dim son Arthur, rule bound but ineffective and nervy Captain Martin Crieff, and smooth talking schemer First Officer Douglas Richardson.
Musical numbers
Edit
Edinburgh
Edit
Bread of Heaven - Mr. Birling
Ten Green Bottles - Mr. Birling
Summertime - Douglas
Busy Doing Nothing - Douglas, Arthur, Carolyn
Johannesburg
Edit
One Man Went to Mow - Arthur
One Man Went to Mow (reprise) - Arthur and Martin
One Man Went to Mow (second reprise) - Arthur, Martin and Diego
Get Dressed Ye Merry Gentlemen - Arthur
Happy Birling Day - Arthur
Ottery St. Mary
Edit
That's Amore - Douglas
Those Magnificent Men in Their Flying Machines - Douglas, Arthur & Martin
Ad blocker interference detected!
Wikia is a free-to-use site that makes money from advertising. We have a modified experience for viewers using ad blockers

Wikia is not accessible if you've made further modifications. Remove the custom ad blocker rule(s) and the page will load as expected.