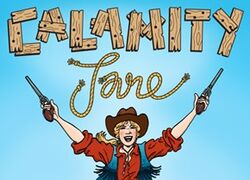 This is about the stage musical. For the original film, see Calamity Jane (1953 film).
Calamity Jane is a stage musical based on the original film, Calamity Jane, based on the life of law enforcement officer Martha "Calamity" Jane Canary.
Deadwood City's two most famous peace officers, Calamity Jane and Wild Bill Hickock, get involved in saving the neck of Henry Miller, the local saloon operator. It seems that "Millie" has been promoting a beautiful actress named Frances Fryer, but Frances turns out to be a boy, Francis. Millie's attempt to cover up is soon unmasked by the angry miners, and
To keep the peace, Calamity sets out for Chicago to bring back the miner's real heart-throb, Adelaide Adams. In Chicago Calamity mistakes Adelaide's maid, Katie Brown, for the actress and hauls her back to Deadwood. Onstage Katie is greeted warmingly, but breaks down and confesses that she is not the famous star. Calamity once more has to restore order and persuades the audience to give Katie a chance. They do, and she wins the heart of every male in town including Calamity's dashing love hope, Lt. Danny Gilmartin. Calamity reluctantly overcomes her jealousy over losing Danny and discovers her true love for Wild Bill.
Musical numbers
Edit
Act One
"The Deadwood Stage" - Calamity, Bill and Company
"Adelaide" - Bill and Men
"Everyone Complains About the Weather" - Fryer
"Men" - Calamity
'Careless with the Truth" - Calamity, Bill and Men
"A Hive Full of Honey" - Fryer
"I Can Do Without You" - Calamity and Bill
"Tis Harry I'm Planning to Marry" - Adelaide, Chorus Girls, Hugh and Stage Door Johnnies
"Windy City" - Calamity and Men
"Adelaide" (Reprise) - Men
"Keep It Under Your Hat" - Katie
Act Two
"Higher Than a Hawk" - Bill
"A Woman's Touch" - Calamity and Katie
"Love You Dearly" - Danny and Katie
"The Black Hills of Dakota" - Company
"Secret Love" - Calamity
"Finale" - Company
Ad blocker interference detected!
Wikia is a free-to-use site that makes money from advertising. We have a modified experience for viewers using ad blockers

Wikia is not accessible if you've made further modifications. Remove the custom ad blocker rule(s) and the page will load as expected.