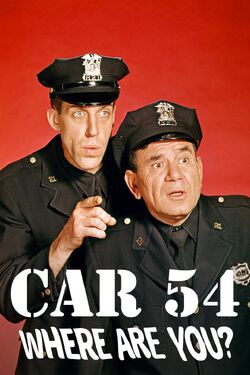 Car 54, Where Are You? is a crime comedy series.
Singing cast (recurring/guest)
Edit
Notable non-singing cast
Edit
The series follows the adventures of New York Police Department officers Gunther Toody (badge #1432) and Francis Muldoon (badge #723), assigned to Patrol Car 54 in the fictional 53rd precinct of The Bronx. Toody was short, stocky, nosy, and not very bright and lived with his loud, domineering wife, Lucille. Muldoon was very tall, quiet, and more intelligent. He was a shy bachelor who lived with his mother and two younger sisters, who often eschewed the notion of being married.
Comedic themes were often drawn from the pair's incurable warm-heartedness, and their futile attempts to subjugate this and "get tough", as seemed to be required in order to execute their police assignments. The story would resolve with a passive solution which left all parties happy. Other themes focused on Toody's simpleness combined with much enthusiasm and sometimes stubbornness which created comedic conflict.
Musical numbers
Edit
Series One
Edit
Love Minds Muldoon
Edit
"Love's Old Sweet Song" - Bonita
Christmas at the 53rd
Edit
"I Am The Captain Of The 53rd" - Block
"You're Nobody Till Somebody Loves You" - Block
"A Policeman's Lot Is Not A Happy One" - Muldoon
"Irving" - Bonita
"Mutual Admiration Society" - Toody and Muldoon
Series Two
Edit
A Man is Not an Ox
Edit
"Beautiful Dreamer" - Toody and Muldoon
Toody & Muldoon Sing Along With Mitch
Edit
"The Rose of Tralee" - Toody, Muldoon,
Stop Thief
Edit
"The First Noel" - Toody, Muldoon and Omar
"Deck The Halls" - Toody, Muldoon and Omar
Ad blocker interference detected!
Wikia is a free-to-use site that makes money from advertising. We have a modified experience for viewers using ad blockers

Wikia is not accessible if you've made further modifications. Remove the custom ad blocker rule(s) and the page will load as expected.