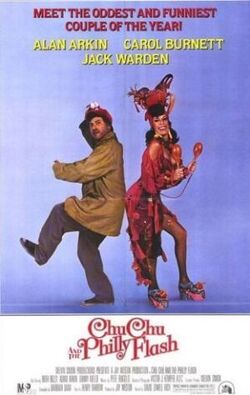 Chu Chu and the Philly Flash is a 1981 comedy film.
Singing cast
Edit
Non-singing cast
Edit
Flash used to be a talented baseball player but he took to drinking and now he sells stolen watches in the streets. One day he meets Chu Chu who, before falling into alcoholism like him, was a successful entertainer. Now she still dances but in the streets for no more than a cent or two. Luck seems to smile at them the day they find stolen government documents forgotten some place. They decide to return them to their legal owners but instead of the expected reward money all the retribution they get is a whole lot of trouble.
Musical numbers
Edit
"Whole Lot of Money" - Flash
Ad blocker interference detected!
Wikia is a free-to-use site that makes money from advertising. We have a modified experience for viewers using ad blockers

Wikia is not accessible if you've made further modifications. Remove the custom ad blocker rule(s) and the page will load as expected.