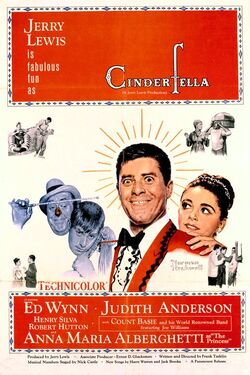 Cinderfella is a 1960 comic take on the classic fairy tale Cinderella.
Singing roles
Edit
Non-singing roles
Edit
When Fella's father dies, he continues to live with his wicked stepmother, Emily, and her two sons, Maximilian and Rupert. His stepfamily takes over the family mansion, while Fella is reduced to living in an unfinished room at the end of a long hallway. He has in essence become their butler, catering to their every whim.
Fella dreams nightly that his father is trying to relay a message to him about where he has hidden his fortune, but he always awakens before he learns the hiding place. His stepfamily knows of this secret fortune and some go to great lengths to discover its whereabouts, while others pretend to befriend him in order to wrangle Fella's fortune away once it is found.
Princess Charming of the Grand Duchy of Morovia is in town, so the stepmother decides to throw her a lavish ball in order to get her to marry one of the sons. Fella is not allowed to go to the ball, but his fairy godfather says he will not remain a "people" much longer, but will blossom into a "person."
Before the ball, Fella is turned into a handsome prince. Count Basie's orchestra is playing at the ball when Fella makes his grand entrance. The young man quickly gains the attention of the Princess and they dance. The night is cut short when midnight strikes and Fella flees, losing his shoe along the way.
Back home, one of Fella's stepbrothers realizes that Fella is the supposed "prince." They wind up in a struggle under a tree, in the process discovering that this is where Fella's father's fortune is hidden. Fella gives the money to his stepfamily, saying he never needed money to be happy, he only wanted a family. Shamed, his stepmother orders her sons to return the money to Fella.
The Princess arrives with Fella's lost shoe, but Fella explains that they could never be together because she is a "person" and he is a "people." She tells him that, underneath the fancy clothes, she is a "people" too.
Musical numbers
Edit
"Let Me Be a People (Plain Old Me)" - Fella and Fairy Godfather
"The Other Fella (A Soliloquy)" - Fella
"The Princess Waltz (Once Upon A Time)" - Fella
"Somebody" - Fella
Ad blocker interference detected!
Wikia is a free-to-use site that makes money from advertising. We have a modified experience for viewers using ad blockers

Wikia is not accessible if you've made further modifications. Remove the custom ad blocker rule(s) and the page will load as expected.