This is about the television film. For the other film adaptation see What Lola Wants. For the original musical, see Damn Yankees (musical).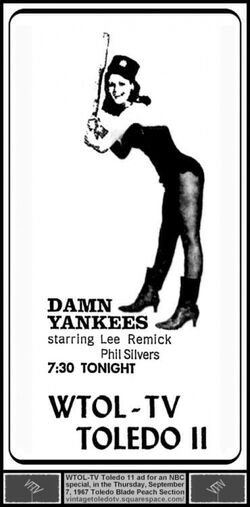 Damn Yankees is a 1967 television film adaptation of the stage musical of the same name.
Wishing that his favorite baseball team, the Senators, win the pennant, Joe Hardy makes a deal with the devil (literally), Mr. Applegate, and becomes his alter-ego, Joe Hardy. However, during as a young man, Joe begins to have second thoughts of being a baseball star.
Musical numbers
Edit
"Six Months Out of Every Year" - Meg Boyd, Joe Boyd, Gloria Thorpe, Husbands, and Wives
"Goodbye, Old Girl" - Joe Boyd and Joe Hardy
"Heart" - Van Buren, Rocky, Smokey and Linville
"Shoeless Joe from Hannibal, Mo." - Gloria
"A Man Doesn't Know" - Joe Hardy and Meg Boyd
"A Little Brains, A Little Talent" - Lola
"Whatever Lola Wants (Lola Gets)" - Lola
"The Game" - Rocky, Smokey and Senators
"Near to You" - Joe Hardy and Meg Boyd
"Those Were the Good Old Days" - Applegate
"Two Lost Souls" - Lola and Joe Hardy
"A Man Doesn't Know (Reprise)" - Meg Boyd and Joe Boyd
Ad blocker interference detected!
Wikia is a free-to-use site that makes money from advertising. We have a modified experience for viewers using ad blockers

Wikia is not accessible if you've made further modifications. Remove the custom ad blocker rule(s) and the page will load as expected.