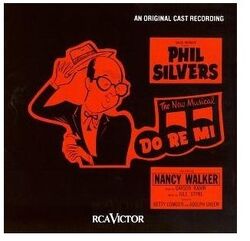 Do Re Mi is a stage musical by Garson Kanin.
Hubie Cram is "a loser endlessly scheming to win big." His long-suffering patient wife Kay urges him to "Take a Job," while he plots. He finds three pals, Fatso O'Rear, Brains Berman and Skin Demopoulos, and they scheme to enter the juke-box business.
Soon they have 300 juke-boxes, which they plan on selling to John Henry Wheeler, a record producer. Hubie discovers a naive singer, Tilda Mullen, and they plan their future. At a fancy nightclub Hubie explains, and demonstrates, gangster's behaviour that he learned from watching the Late Late Show. Kay compares her abandoned comfortable existence with the insecurity of life with Hubie. Tilda and Wheeler fall in love. In the end Hubie realizes that he has nothing except a wonderful marriage.
Musical numbers
Edit
Act I
"Waiting, Waiting" - Kay
"All You Need Is a Quarter" - The Swinger, A Swinger, 3rd Swinger
"Take a Job" - Hubie, Kay
"It's Legitimate" - Hubie, Fatso, Brains, Skin, The Loaders
"I Know About Love" - John Henry
"The Auditions" - Marsha, Lou, The Swinger
"Cry Like the Wind" - Tilde
"Ambition" - Hubie, Tilde
"Success" - Tilda Mullen Fans, Tilde, Hubie, Fatso, Brains, Skin
"Fireworks" - Tilde, John Henry
"What's New at the Zoo" - Tilde, the Animal Girls
"Asking for You" - John Henry
"The Late, Late Show" - Hubie
Act II
"Adventure" - Hubie, Kay
"Make Someone Happy" - John Henry, Tilde
"Don't Be Afraid of a Teardrop" - Hubie, Fatso, Brains, Skin
"V.I.P." - The Public, Hubie
"All of My Life" - Hubie
"Finale" - Hubie, Kay, Company
Ad blocker interference detected!
Wikia is a free-to-use site that makes money from advertising. We have a modified experience for viewers using ad blockers

Wikia is not accessible if you've made further modifications. Remove the custom ad blocker rule(s) and the page will load as expected.