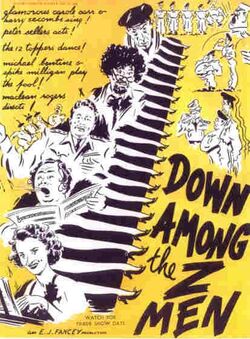 Down Among the Z Men is a 1952 comedy film featuring The Goons.
Singing cast
Edit
Non-singing cast
Edit
Harry Jones is a clerk in Mr. Crab's general mercantile store and an amateur actor in community theatre, where he is currently playing a Scotland Yard inspector, "Batts of the Yard". When the absentminded Prof. Osrick Purehart leaves a secret military formula in the store, mayhem ensues as two suspicious secret agents, who have been shadowing the professor, question Harry regarding the formula.
In an attempt to return the formula to the professor, Harry goes to an Army post, Camp Warwell, where he is mistakenly enlisted in the Z Men, ostensibly an elite unit guarding atomic secrets but in reality a ragtag group of reservists, retreads, and others of marginal (at best) competence. A pair of enemy spies kidnap an adjutant newly assigned to the camp. One of the spies then impersonates him at Camp Warwell.
The post's commander, Colonel Bloodnok, has been assigned for security purposes a supposed "daughter" who is actually a female MI5 operative. Harry soon becomes smitten with the "daughter," and they work together to foil an attempt by the secret agents to purloin Prof. Pureheart's formula.
Musical numbers
Edit
"If This Is Love" - Carole
"Down Among the Z Men" - Carole
"Down Among the Z Men" (reprise) - Carole, Bloodnok, Purehart, Eccles and Harry
Ad blocker interference detected!
Wikia is a free-to-use site that makes money from advertising. We have a modified experience for viewers using ad blockers

Wikia is not accessible if you've made further modifications. Remove the custom ad blocker rule(s) and the page will load as expected.