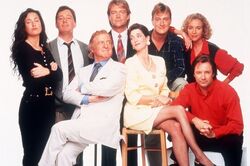 Drop the Dead Donkey is a sitcom written by Andy Hamilton and Guy Jenkin.
Cast
Singing cast (regular)
Singing cast (recurring/guest)
Non-singing cast
Plot
When media mogul Sir Roysten Merchant buys Globelink News, life at the TV station changes forever. Staffers struggle to help editor George Dent maintain the standards of a serious news business, while Gus Hedges, Sir Royston's right-hand man, tries to make the stories as sensational as possible - and to make sure no stories that might damage Sir Roysten's business empire ever make it on-air.
Musical numbers
Series One
The Big Day
Somewhere Over the Rainbow - Lenny
Series Three
Helen'll Fix It
The Sun Has Got His Hat On - Sally
Lady Merchant
I Could Have Danced All Night - George
Awards
Are You Lonesome Tonight? - Joy
Series Four
Helen's Parents
Spread a Little Happiness - George
Henry's Autobiography
If I Were a Rich Man - Henry
The Strike
I'm Sitting on Top of the World - Gus
The Wedding
These Boots Are Made for Walking - Joy
There's No One Quite Like Grandma - Sally
I Don't Like Mondays - George
Series Five
The Godless Society
Old McDonald Had a Farm - Joy, Henry, Dave and Staff
Charnley in Love
Football's Coming Home - Joy, Helen and Staff
Football's Coming Home (reprise) - Tony Banks MP and Annie Coates
Dave and Diana
Going to Barbados - Henry
Series Six
But is it Art?
Love Hurts - Bernice and Helen
George Finds Love
Boom-oo-ya-ta-ta-ta - Damien, Dave, Joy and Henry