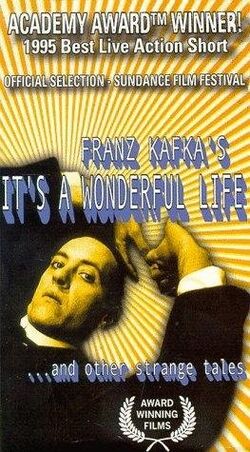 .
Franz Kafka's "It's a Wonderful Life" is a 1998 comedy by Peter Capaldi.
Singing cast
Edit
Non-singing cast
Edit
While trying to decide what Gregor Samsa wakes up as, author Franz Kafka is constantly being interrupted by knife-selling strangers, party noise, girls, fancy dress costumes, and other strange, dreamlike visions.
Musical numbers
Edit
"Hark, the Herald Angels Sing" - Frau Bunofsky, Cicely and Kafka
"Sweet Mystery of Life" - Gregor Samsa
Ad blocker interference detected!
Wikia is a free-to-use site that makes money from advertising. We have a modified experience for viewers using ad blockers

Wikia is not accessible if you've made further modifications. Remove the custom ad blocker rule(s) and the page will load as expected.