This is about the 1958 film. For the 1987 film, see Hansel and Gretel (1987 film).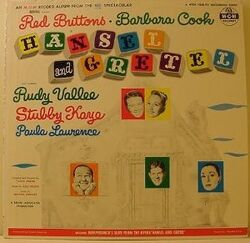 Hansel and Gretel is a 1958 television musical adaptation of the fairy tale of the same name.
Musical numbers
Edit
"The Hansel and Gretel Son (Much Too Happy Dancing)" - Hansel and Gretel
"Market Today" - Town Crier and Townspeople
"Men Run the World" - Father
"Evening Song (Soft Through the Woodland)" - Gretel
"Morning Song" - Gretel
"Eenie, Meenie, Mynie Moe (The Counting Song)" - Eenie, Meenie, Moe
'What Are Little Girls Made Of?" - Hansel, Gretel, Eenie, Meenie, Moe
Ad blocker interference detected!
Wikia is a free-to-use site that makes money from advertising. We have a modified experience for viewers using ad blockers

Wikia is not accessible if you've made further modifications. Remove the custom ad blocker rule(s) and the page will load as expected.