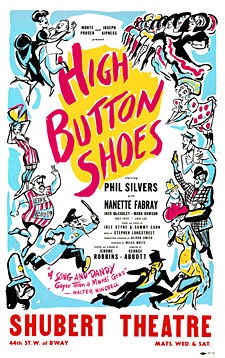 High Button Shoes is a stage musical based on the novel The Sisters Liked Them Handsome by Stephen Longstreet.
In New Brunswick, New Jersey in 1913, the Longstreet family, consisting of Mama, Papa, Mama's younger sister Fran, and her college boyfriend Oggle, is affected when a con man, Harrison Floy, and his shill, Mr. Pontdue, come to town. The duos' dubious intentions are made clear as Floy pitches "snake-oil" schemes including selling fake watches and diamond mines, and the shill Mr. Pontdue asks for two. They are chased by the police, and the phoney scheme is repeated. After they cheat the Longstreets in a phoney land deal, Floy and Pontdue try to escape to Atlantic City, New Jersey with their ill-gotten profits and also take Fran (who has become romantically involved with Floy) with them.
As the con men Floy and Pontdue are pursued to the Atlantic City beach while carrying a satchel full of stolen money, the people on the beach dance around them. They tangle with a large number of people—including bathing beauties, lifeguards, other criminals, identical twins—and one gorilla. The climax occurs when the Keystone Cops arrive, and Floy loses everything when he bets on the wrong football team. But after his being captured we learn that Pontdue has bet on not a football team, but a filly named "Princeton." Floy gives the conned citizens their money back, but before he leaves tries to get the audience to buy one more item of "great worth..."
Musical numbers
Edit
Act I
"He Tried to Make a Dollar" – Singers
"Can't You Just See Yourself in Love with Me?" – Hubert Ogglethorpe and Fran
"There's Nothing Like a Model T" – Harrison Floy and Company
"Next to Texas, I Love You" – Hubert Ogglethorpe and Fran
"Security" – Sara Longstreet, Fran and Singing Girls
"Bird Watcher's Song" – Sara Longstreet and Singing Girls
"Get Away for a Day in the Country" – Henry Longstreet, Stevie Longstreet and Singers
"Papa, Wont You Dance with Me?" – Sara Longstreet, Henry Longstreet, Girls and Boys
Act II
"On a Sunday by the Sea" – Singers
"You're My Girl" – Hubert Ogglethorpe and Fran
"I Still Get Jealous" – Sara Longstreet and Henry Longstreet
"You're My Boy" – Harrison Floy and Mr. Pontdue
"Nobody Ever Died for Dear Old Rutgers" – Harrison Floy, Hubert Ogglethorpe and Singing Boys
"He Tried to Make a Dollar" (Reprise) – Entire Company
Ad blocker interference detected!
Wikia is a free-to-use site that makes money from advertising. We have a modified experience for viewers using ad blockers

Wikia is not accessible if you've made further modifications. Remove the custom ad blocker rule(s) and the page will load as expected.