This is about the film. For the first musical adaptation see High Society (1987 musical). For the later musical adaptation see High Society (1998 musical).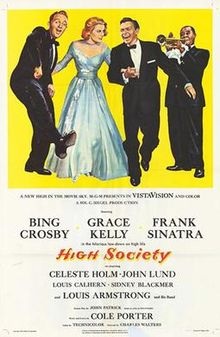 High Society is a 1956 musical film based upon the play Philadelphia Story by Philip Barry.
Singing roles
Edit
Non-singing roles
Edit
The highly successful jazz musician C.K. Dexter Haven was divorced from wealthy Newport, Rhode Island socialite Tracy Samantha Lord, but remains in love with her. She, however, is about to get married to a bland gentleman of good standing, George Kittredge.
Spy Magazine, a fictional tabloid newspaper in possession of embarrassing information about Tracy's father, sends reporter Mike Connor and photographer Liz Imbrie to cover the nuptials. Tracy begins an elaborate charade as a private means of revenge, introducing her Uncle Willy as her father Seth Lord and the latter as her Uncle Willy.
Connor falls in love with Tracy, who must choose among three very different men in a course of self-discovery.
Musical numbers
Edit
"Little One" - C.K. and Lydia
"Who Wants to Be a Millionaire?" - Mike and Liz
"True Love" – C.K., Tracy
"You're Sensational" – Mike
"I Love You, Samantha" – C.K.
"Now You Has Jazz" – C.K., Armstrong & his band
"Well, Did You Evah!" – C.K. and Mike
"Mind if I Make Love to You?" – Mike
Ad blocker interference detected!
Wikia is a free-to-use site that makes money from advertising. We have a modified experience for viewers using ad blockers

Wikia is not accessible if you've made further modifications. Remove the custom ad blocker rule(s) and the page will load as expected.