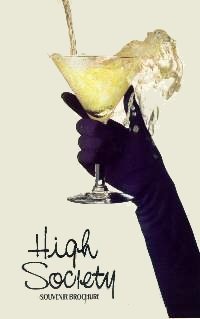 This is about the 1987 stage musical. For the later adaptation, see High Society (1998 musical). For the original film, see High Society (1956 film).
High Society is a musical based on The Philadelphia Story and subsequent film High Society.
Pretentious Oyster Bay socialite Tracy Lord is planning to wed an equally pretentious executive when her ex-husband Dexter arrives to disrupt the proceedings. Also present are Tracy's estranged parents, her younger sister Dinah, rambunctious alcoholic Uncle Willie and a pair of reporters aiming to get a scoop on Tracy's father and an alleged affair.
Musical numbers
Edit
"How Do You Spell Ambassador?" - Kidd, Reporters and Secretaries
"Give Him the Oo-la-la" - Dinah
"Who Wants to Be a Millionaire?" - Mike and Liz
"Little One" - Dexter
"Hey, Good Lookin'" - Uncle Willie
"I Love You, Samantha" - Dexter
"Well, Did You Evah?" - Tracy, Dexter, Mike and Liz
"Most Gentlemen Don't Like Love" - Female Chorus
"Now You Has Jazz" - Mike and Tracy
"In the Still of the Night" - Liz
"You're Sensational" - Mike
"True Love" - Dexter and Tracy
"High Society" - Company
"Well, Did You Evah?" (reprise) - Company
Ad blocker interference detected!
Wikia is a free-to-use site that makes money from advertising. We have a modified experience for viewers using ad blockers

Wikia is not accessible if you've made further modifications. Remove the custom ad blocker rule(s) and the page will load as expected.