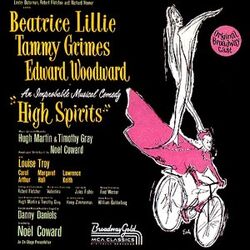 High Spirits is a stage musical based on the play Blithe Spirit.
Writer Charles Condomine hosts a séance conducted by medium Madame Arcati in the hope that he'll learn her tricks so he can use the information in his new novel. His assumption that she is a fake is proven wrong when she falls into a trance and unwittingly conjures the spirit of his late wife Elvira, although he alone can see her. His present wife Ruth believes that Charles is joking until Elvira moves into the Condomine household and proves her presence by performing poltergeist-type pranks.
Elvira's plan to kill Charles so he can join her in the beyond backfires when she accidentally disposes of Ruth instead, and before long the two female apparitions are disrupting their former husband's life with their constant nagging and bickering.
Musical numbers
Edit
Act I
"Was She Prettier Than I?" - Ruth
"The Bicycle Song" - Arcati and ensemble
"You'd Better Love Me" - Elvira
"Where Is the Girl I Married?" - Charles and Ruth
"Go Into Your Trance" - Arcati and Beatniks
"Where Is the Man I Married?" (Reprise)- Charles and Ruth
"Forever and a Day" - Charles
"Something Tells Me" - Elvira
"I Know Your Heart" - Elvira and Charles
"Faster Than Sound" - Elvira and Ensemnble
Act II
"If I Gave You" - Ruth and Charles
"Talking to You" - Arcati
"Home Sweet Heaven" - Elvira
"Something Is Coming to Tea" - Arcati and Beatniks
"What In the World Did You Want?" - Charles, Ruth and Elvira
"Faster Than Sound" (Reprise) - the company
Ad blocker interference detected!
Wikia is a free-to-use site that makes money from advertising. We have a modified experience for viewers using ad blockers

Wikia is not accessible if you've made further modifications. Remove the custom ad blocker rule(s) and the page will load as expected.