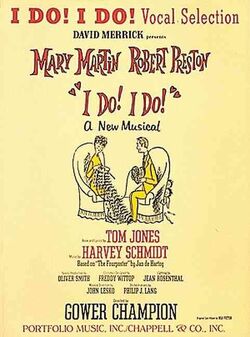 I Do! I Do! is a musical based on the stage play The Fourposter by Jan de Hartog.
Musical numbers
Edit
Prologue/Act I
"All the Dearly Beloved/Together Forever/I Do! I Do!" - Both
"Good Night" - Both
"I Love My Wife" - He
"Something Has Happened" - She
"My Cup Runneth Over" - Both
"Love Isn't Everything" - Both
"Nobody's Perfect" - Both
"A Well Known Fact" - He
"Flaming Agnes" - She
"The Honeymoon Is Over" - Both
Act II
"Where Are the Snows?" - Both
"When the Kids Get Married" - Both
"The Father of the Bride" - He
"What Is a Woman?" - She
"Someone Needs Me" - She
"Roll Up the Ribbons" - Both
"This House" - Both
Ad blocker interference detected!
Wikia is a free-to-use site that makes money from advertising. We have a modified experience for viewers using ad blockers

Wikia is not accessible if you've made further modifications. Remove the custom ad blocker rule(s) and the page will load as expected.