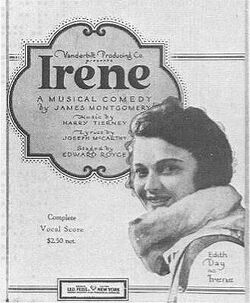 Irene is a stage musical based on James Montgomery's play Irene O'Dare.
Irene O'Dare is a humble but ambitious, hard-working Irish girl from the humble West side of Manhattan, who runs a little music store with her widowed mother. Irene is sent to tune a piano for young tycoon Donald Marshall III, a Long Island society gentleman. Once at Donald's estate, Irene falls in love with him, and each is captivated by how different the other is from their usual friends.
Donald's ne'er-do-well cousin Ozzie wants help to jump-start a fashion business to be run by his friend, "Madame Lucy", a flamboyant male artiste, who pretends to be a famous French couturier. Irene and her pretty best friends, Helen McFudd and Jane Burke, are recruited to model Madame Lucy's gowns, while Donald provides financing. Irene agrees to pose as a society girl to convince everyone to shop at Madame Lucy's, but she becomes angry with Donald when he asks her to continue the ruse. Meanwhile, Irene's mother and Donald's mother do not see eye-to-eye.
Madame Lucy, Helen, Jane and Ozzie are overjoyed at their success, as Madame Lucy's creations are now world-famous. Donald realizes that he loves Irene. He goes to the piano store but on the way he runs into some unsavory fellows who beat him badly. He and Irene reconcile but then argue again, and he runs out. Helen and Jane give Donald some advice about acting like a man and wooing Irene properly. Following their counsel, he sweeps her into his arms and kisses her passionately, which results in more bruises, this time from her.
At the grand ball at Donald's estate, Irene finds her mother brokenhearted over the love of her life, Liam O'Dougherty. It turns out that Madame Lucy is Liam O'Dougherty, and he reunites happily with Irene's mother. Donald announces that he loves Irene, and her true identity is revealed. He tells her: "You made me love you", and all ends happily.
Musical numbers
Edit
Act I
Hobbies – Eleanor Worth and Ensemble
Alice Blue Gown – Irene O'Dare
Castle of Dreams – Eleanor and Ensemble
The Talk of the Town – Madame Lucy, Helen Cheston and Jane Gilmour
To Be Worthy (of You) – Irene and Ensemble
Act II
We're Getting Away With It – Madame Lucy, Donald Marshall, Robert Harrison, Helen and Jane
Irene – Irene and Company
To Love You – J. P. Bowden and Irene
Sky Rocket (Skyrocket) – Irene and Ensemble
The Last Part of Every Party – Helen, Jane and Ensemble
There's Something in the Air – Ensemble
Ad blocker interference detected!
Wikia is a free-to-use site that makes money from advertising. We have a modified experience for viewers using ad blockers

Wikia is not accessible if you've made further modifications. Remove the custom ad blocker rule(s) and the page will load as expected.