This is about the 1967 film. For the earlier film adaptation, see Kismet (1955 film). For the musical on which they were both based, see Kismet (musical).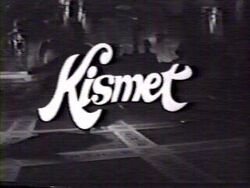 Kismet is a television film adaptation of the musical of the same name.
Musical numbers
Edit
"Rhymes Have I" - Hajj and Marsinah
"Fate" - Hajj
"Not Since Nineveh" - Lalumne, Dancers and Citizens
"Baubles, Bangles and Beads" - Marsinah and Dancers
"Stranger in Paradise" - Marsinah and The Caliph
"He's in Love!" - Guards and Citizens
"Gesticulate" - Hajj and Citizens
"Night of My Nights" - The Caliph and Servants
"Was I Wazir?" - Wazir and Guards
"And This Is My Beloved" - Hajj and Marsinah
Ad blocker interference detected!
Wikia is a free-to-use site that makes money from advertising. We have a modified experience for viewers using ad blockers

Wikia is not accessible if you've made further modifications. Remove the custom ad blocker rule(s) and the page will load as expected.