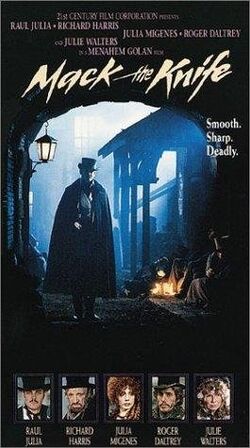 Mack the Knife is a 1989 film adaptation of the classic musical The Threepenny Opera.
In 19th century London, young Polly Peachum falls for the famous womanizing criminal Macheath and they decide to get married, but because of her family's disapproval, her father ("the king of thieves") has Macheath arrested.
Musical numbers
Edit
Mack the Knife - Street Singer, Jenny and Girls
Peachum's Morning Chorale (Morning Anthem) - Peachum
I Prefer Duet - Peachum and Mrs Peachum
Wedding Song - Wedding Guests
Army Song - Macheath, Tiger Brown and Men
Love Song - Macheath and Polly
Perpendicular Song (Barbara Song) - Street Singer and Polly
Ballad of Sexual Dependency - Mrs Peachum
Uncertainity of Human Condition - Peachum, Mrs Peachum, Polly and Street Singer
Polly's Song - Macheath, Polly and Street Singer
Pirate Jenny - Jenny
Memories Tango Ballad - Macheath and Jenny
Ballad of Pleasant Living - Macheath
Jealousy Duet - Lucy and Polly
Ballad About What Keeps a Man Alive - Macheath, Jenny, Peachum, Mrs Peachum and Street Singer
You'd Better Use Your Head - Jenny, Peachum, Mrs Peachum, Street Singer, Tiger Brown and Reverend Kimball
Call from the Grave - Macheath
Solomon Song - Jenny
Death Message - Macheath
Riding Messenger - Jenny, Macheath, Peachum, Mrs Peachum and Tiger Brown
Mack the Knife (Reprise) - Street Singer
Ad blocker interference detected!
Wikia is a free-to-use site that makes money from advertising. We have a modified experience for viewers using ad blockers

Wikia is not accessible if you've made further modifications. Remove the custom ad blocker rule(s) and the page will load as expected.