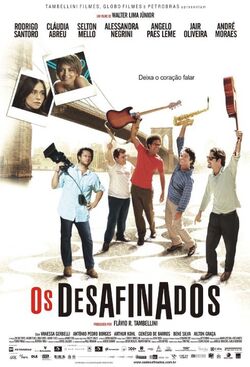 Os Desafinados is a Brazilian film made in 2008.
Singing cast
Edit
Non-singing cast
Edit
Cláudia Abreu - Gloria
Arthur Kohl - Older Dico
Bene Silva - Older Geraldo
Renato Borghi - Cônsul Carlos José
In 1960 , five friends form the band Rio Bossa Five. They seek success and dream of playing at Carnegie Hall . So they go to Manhattan and there they found a muse, who returns with them to Brazil and joins the group. The film is punctuated by musical movement of Bossa Nova and the political situation in Brazil.
Musical numbers
Edit
"Meditação" - Gloria
"Quero Você" - Gloria
"Sonho Brasileiro" - Young Geraldo
"Carinhoso" - Gloria and Antonio
"Copacabana" - Antonio
Ad blocker interference detected!
Wikia is a free-to-use site that makes money from advertising. We have a modified experience for viewers using ad blockers

Wikia is not accessible if you've made further modifications. Remove the custom ad blocker rule(s) and the page will load as expected.