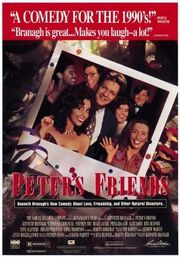 Peter's Friends is an English comedy film.
Singing cast
Edit
Non-singing cast
Edit
It is New Year's weekend and the friends of Peter gather at his newly inherited country house. Ten years ago, they all acted together in a Cambridge University student comedy troupe. Since then they have gone in different directions and various career paths.
Peter's friends are Andrew, now a writer in Hollywood; married jingle writers Roger and Mary; glamorous costume designer Sarah; and eccentric Maggie, who works in publishing. Cast in sharp relief to the six university chums are Carol, the American TV star wife of Andrew; and loutish Brian, Sarah's very recently acquired lover.
Peter's father has recently died, and so Peter plans to sell the house after this last get-together party. While Andrew and Carol's troubled marriage is played mainly for laughs, Roger and Mary are recovering from a devastating personal tragedy only slowly revealed to the audience: the death of one of their children. A lonely Maggie is determined to persuade Peter they should be more than just friends, and Sarah's not as happy with her life as she appears.
The events lead to Carol leaving Andrew to go back to America which leads to him falling off the wagon and drinking again after he has been sober for over a year. Roger and Mary come to an understanding of their worry over the rest of their children. Brian leaves Sarah after she cannot decide if she loves him or, much more, wants a commitment. After a failed attempt to seduce Peter, Maggie ends up hooking up with Paul. In the climax of the film Peter is forced to break some heart-wrenching news to his friends and the real reason for his gathering of all of them for the get-together: he happens to be HIV-positive which ends the reunion (and the film) on a sour note.
Musical numbers
Edit
"Orpheus in the Underworld" - Andrew, Carol, Peter, Mary, Roger and Maggie
"Roger's Coffee Commercial Jingle" - Roger, Mary and Brian
"The Way You Look Tonight" - Andrew, Carol, Roger, Mary and Maggie
Ad blocker interference detected!
Wikia is a free-to-use site that makes money from advertising. We have a modified experience for viewers using ad blockers

Wikia is not accessible if you've made further modifications. Remove the custom ad blocker rule(s) and the page will load as expected.