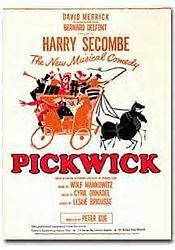 This is about the stage musical. For the television film adaptation, see Pickwick (1969 film).
Pickwick is a musical based on the Charles Dickens novel The Pickwick Papers.
Set in England in 1828, the story centres on wealthy Samuel Pickwick and his valet Sam Weller, who are in a debtors' prison where they recall the misadventures that led to their imprisonment.
On the previous Christmas Eve, Pickwick introduced his friend Wardle, Wardle's daughters, Emily and Isabella, and their Aunt Rachael to Nathaniel Winkle, Augustus Snodgrass, and Tracy Tupman, three members of the Pickwick Club. They were soon joined by Alfred Jingle, who tricked Tupman into paying for his ticket to a ball that evening. Upon learning Rachael is an heiress, Jingle set out to win her hand and eventually succeeded.
Pickwick engages Sam Weller as his valet and, through a series of misunderstandings, he inadvertently leads his landlady, Mrs. Bardell, to believe he has proposed marriage to her. Pickwick is charged with breach of promise and hauled into court, where he is found guilty as charged and sentenced to prison when he stubbornly refuses to pay her compensation.
Musical numbers
Edit
Act 1
"Business is Booming" - Hot Toddy Seller, Cold Drinks Seller and Turnkey
"Debtors Lament" - Chorus
"Talk" - Sam Weller and Chorus
"That's What I'd Like for Christmas" - Pickwick and Company
"The Pickwickians" - Pickwick, Augustus Snodgrass, Tracy Tupman and Nathaniel Winkle
"Bit of a Character" - Mr. Jingle, Augustus Snodgrass, Nathaniel Winkle and Tracy Tupman
"Quadrille" - The Company
"There's Something About You" - Mr. Jingle, Rachel and Company
"Learn a Little Something" - Sam Weller and Mary
"You Never Met a Feller Like Me" - Pickwick and Sam Weller
"Look into Your Heart" - Pickwick and Mrs. Bardell
"Winter Waltz" - Chorus
Act 2
"A Hell of an Election" - Chorus
"Very" - Mr. Jingle, Pickwick and Mr. Wardle
"If I Ruled the World" - Pickwick and Company
"The Trouble with Women" - Tony Weller and Sam Weller
"That's the Law" - Dodson and Fogg, Pickwick, Sam, The Pickwickians, The Clerks
"British Justice" - Pickwick and The Company
"Do as you Would be Done By" - Jingle, Pickwick, Sam, Mrs. Bardell and Chorus
"Good Old Pickwick" - The Company
"If I Ruled the World (Reprise)" - Pickwick and Company
Ad blocker interference detected!
Wikia is a free-to-use site that makes money from advertising. We have a modified experience for viewers using ad blockers

Wikia is not accessible if you've made further modifications. Remove the custom ad blocker rule(s) and the page will load as expected.