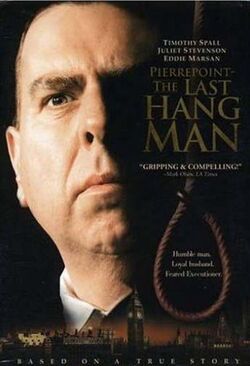 Pierrepoint also known as Pierrepoint: The Last Hangman is a television film about the life of Albert Pierrepoint, the last hangman in England.
Singing cast
Edit
Non-singing cast
Edit
The film loosely follows Britain's most prolific hangman, Albert Pierrepoint, from the time he is first trained for the job and accepted onto the list of the country's official hangmen in 1932 until his resignation in 1956. It includes his tenure as the executioner at Nuremberg, his hanging of his own best friend "Tish" Corbitt and encounter with Ruth Ellis, the last woman to be hanged in Britain.
Musical numbers
Edit
"Makin' Whoopee" - Albert and James
"Jealous Heart" - James
Ad blocker interference detected!
Wikia is a free-to-use site that makes money from advertising. We have a modified experience for viewers using ad blockers

Wikia is not accessible if you've made further modifications. Remove the custom ad blocker rule(s) and the page will load as expected.