This is about the stage musical. For the film adaptation, see Rosalie (1937 film).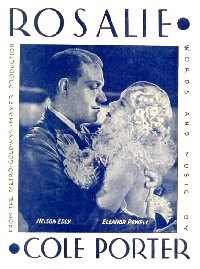 Rosalie is a stage musical.
In the kingdom of Romanza, the crowd assembles to await the arrival of the West Point flyer Lieutenant Richard Fay, coming to visit a girl whom he met in Paris. Mary O'Brien is waiting for her boyfriend, Bill, who she thinks is on the flight with Lt. Fay. When Dick and Rosalie meet, they realize they are in love. Dick finds out that she is a Princess and he angrily leaves. King Cyril reluctantly goes to visit America to obtain a loan for his troubled country, accompanied by his daughter Princess Rosalie and the Queen.
Princess Rosalie visits West Point, but she is disguised. The cadets welcome the royal family, and Dick and Rosalie continue their romantic relationship. However, Rosalie agrees to marry Captain Carl, whose father is a Prince, to keep Dick from being tried in court.
At a dance at West Point, Mary and Bill, who had been fighting, make up. Rosalie attends the dance, disguised as a cadet. Mary wonders about the feelings she has for Bill. Dick and Rosalie return to Romanza and start a revolution so that her royal duties will no longer keep them apart. Exiled to Paris, Rosalie and a group of dancers perform, and King Cyril happily announces the engagement of Rosalie and Dick.
Musical numbers
Edit
Act I
"Here They Are" - Ensemble
"Show Me the Town" - Mary & Ensemble
"Entrance of the Hussars" - Lyric Quartette, Hussars & Ensemble
"Hussar March" - Rosalie & Hussars
"Say So!" - Rosalie & Lt. Fay
"Finalette" - Rosalie, Lt. Fay & Ensemble
"Let Me Be a Friend to You" - Rosalie & Bill
"West Point Bugle" - Lt. Fay & Boys
"Oh Gee! Oh Joy!" - Rosalie & Lt. Fay
"Say So!" (reprise) - Bill
"Kingdom of Dreams" - Rosalie
Act II
"New York Serenade" - Mary, Ensemble & Dancers
"The King Can Do No Wrong" - King Cyril & Show Girls
"Follow the Drum" - Rosalie & Ensemble
"How Long Has This Been Going On?" - Mary
"Oh Gee! Oh Joy!" (reprise) - Lyric Quartette
"At the Ex-King's Club" - Prince Rabisco & Flunkeys
"The Goddesses of Crystal" - The Goddesses of Crystal
"Finale" - Company
Ad blocker interference detected!
Wikia is a free-to-use site that makes money from advertising. We have a modified experience for viewers using ad blockers

Wikia is not accessible if you've made further modifications. Remove the custom ad blocker rule(s) and the page will load as expected.