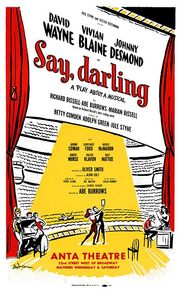 Say, Darling is a comic play with music.
Singing cast
Edit
Non-singing cast
Edit
Jack Jordan is brought to Broadway to help develop his best-seller into a musical for leading lady Irene Lovelle. His journey provides him - and the audience - with an education about what goes on behind-the scenes on the Great White Way, from auditions to rehearsals to rewrites in hotel rooms to feuds among cast members, all under the watchful eye of veteran stage producer/director Richard Hackett and a very young fledgling co-producer, Ted Snow, whose financial acumen greatly outweighs his show business savvy.
Musical numbers
Edit
"Try to Love Me" - Irene
"It's Doom" - Rudy
"The Husking Bee" - Rudy
"It's the Second Time You Meet That Matters" - Rudy
"Let the Lower Lights Be Burning" - Richard and Jack
"Chief of Love" - Irene
"Say, Darling" - Rudy
"The Carnival Song" - Irene, Sammy and Jack
"Try to Love Me" - Rudy
"Dance Only with Me" - Irene and Rex
"Something's Always Happening on the River" - Jack
"Finale" - Company
Ad blocker interference detected!
Wikia is a free-to-use site that makes money from advertising. We have a modified experience for viewers using ad blockers

Wikia is not accessible if you've made further modifications. Remove the custom ad blocker rule(s) and the page will load as expected.