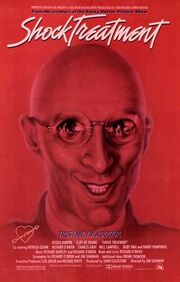 Shock Treatment is a 1981 musical comedy and spiritual sequel to The Rocky Horror Picture Show.
The town of Denton, USA, has been taken over by fast food magnate Farley Flavors. Denton is entirely encased within a television studio for network DTV (Denton Television). Residents are either stars and regulars on a show, cast and crew, or audience members. Brad and Janet, while seated in the audience are chosen to participate in the game show Marriage Maze by the supposedly blind and kooky host Bert Schnick. As a "prize", Brad is imprisoned on Dentonvale, a soap opera that centers around the local mental hospital run by brother and sister Cosmo and Nation McKinley.
Janet is given a taste of show-biz as Farley Flavors molds her into a singing diva superstar in an attempt to take her away from Brad. Her compliance is assured through the use of drugs supplied by the McKinleys. Betty Hapschatt and Judge Oliver Wright investigate Farley and other people involved in DTV, eventually discovering that Cosmo and Nation are not doctors, but merely character actors, and Farley Flavors is Brad's jealous, long-lost twin brother, seeking to destroy Brad and take Janet for himself. The pair rescue Brad from Dentonvale and have Brad confront his twin on his show Faith Factory. Farley imprisons the three and Janet, but they manage to escape in a car along with a local band.
Musical numbers
Edit
"Denton, U.S.A." - Neely, Harry, Vance, Macy, Ralph & Frankie
"Bitchin' in the Kitchen" - Brad and Janet
"In My Own Way" - Janet
"Thank God I'm a Man" - Harry
"Farley's Song" - Farley, Cosmo, Nation, Ansalong & Ricky
"Lullaby" - Nation, Cosmo, Janet, Ansalong & Ricky
"Little Black Dress" - Cosmo, Janet, Bert and Nation
"Me of Me" - Janet, Frankie and Brenda
"Shock Treatment" - Cosmo, Nation, Ansalong, Janet, Ricky, Bert, Harry & Emily
"Carte Blanche" - Janet
"Looking for Trade" - Janet and Brad
"Look What I Did to My Id" - Emily, Harry, Cosmo, Nation, Macy, Ralph, Ansalong & Ricky
"Breaking Out" - Oscar and the Bits
"Duelling Duet" - Farley and Brad
Anyhow, Anyhow" - All
Ad blocker interference detected!
Wikia is a free-to-use site that makes money from advertising. We have a modified experience for viewers using ad blockers

Wikia is not accessible if you've made further modifications. Remove the custom ad blocker rule(s) and the page will load as expected.