This is about the film. For the musical on which it is based, see Sweet Charity (musical).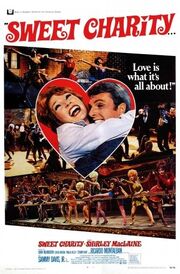 Sweet Charity is a 1969 film based on the musical of the same name.
Singing cast
Edit
Non-singing cast
Edit
Charity Hope Valentine works as a taxi dancer along with her friends, Nickie and Helene. She longs for love, but has bad luck with men, being robbed and pushed off a bridge in Central Park by one ex-boyfriend. She has another humiliating encounter with Vittorio Vital, a movie star, after the return of his ex-girlfriend causes Charity to be shut in a closet.
After failing to find a new job through an employment agency, Charity meets shy Oscar Lindquist in a stuck elevator. They strike up a relationship, but Charity does not reveal what she does for a living. When she finally does tell Oscar, he initially seems to accept it, but finally tells Charity that he cannot marry her.
The optimistic Charity faces her future, alone for the time being, living hopefully ever after.
Musical numbers
Edit
"My Personal Property" - Charity
"Big Spender" - Dancers
"If My Friends Could See Me Now" - Charity
"There's Gotta Be Something Better Than This" - Charity, Nickie and Helene
"It's a Nice Face" - Charity
"The Rhythm of Life" - Big Daddy and Worshippers
"Sweet Charity" - Oscar Lindquist
"I'm a Brass Band" - Charity and Band
"I Love to Cry at Weddings" - Herman, Nickie, Helene and Dancers
"Where Am I Going?" - Charity
Ad blocker interference detected!
Wikia is a free-to-use site that makes money from advertising. We have a modified experience for viewers using ad blockers

Wikia is not accessible if you've made further modifications. Remove the custom ad blocker rule(s) and the page will load as expected.