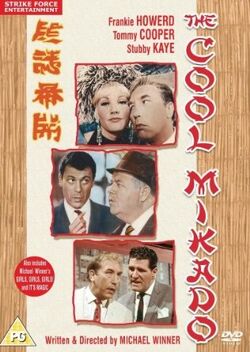 The Cool Mikado is a film musical based on The Mikado.
Hank, the son of American judge Herbert Mikado, refuses to marry Katie Shaw, whom his father wishes him to marry, and so joins the army. He is stationed in Japan where he falls in love with a Tokyo art student, Yum-Yum. However, her fiancé, Ko-Ko, an American gangster operating in Japan, is determined to keep Hank and Yum-Yum apart. Hank's father had also sentenced Ko-Ko's brother to prison.
Musical numbers
Edit
"We are Gentlemen of Japan" - Chorus
"Three Little Maids" - Yum-Yum, Pitti-Sing and Peep-Bo
"A Wandering Minstrel, I" - Hank
"The Sun and I" - Yum-Yum
"Behold the Lord High Executioner" - Chorus
"A More Humane Mikado" - Mikado and Chorus
"The Suns Whose Rays Are All Ablaze" - Yum-Yum
"Tit Willow Twist" - Chorus
"Here's a How-De-Do!" - Ko-Ko
"Were You Not to Ko-Ko Plighted" - Hank
"The Flowers That Bloom in Spring" - Ko-Ko and Pooh-Bah
"Finale" - Ko-Ko and Chorus
Ad blocker interference detected!
Wikia is a free-to-use site that makes money from advertising. We have a modified experience for viewers using ad blockers

Wikia is not accessible if you've made further modifications. Remove the custom ad blocker rule(s) and the page will load as expected.