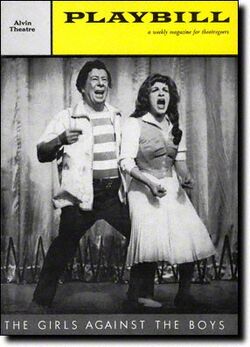 The Girls Against the Boys is a 1959 musical revue.
Musical numbers
Edit
Act I
"The Girls Against the Boys" - Company
"Rich Butterfly" - Husband and Wife
"Can We Save Our Marriage?" - Counselor, Stella and Harry
"I Gotta Have You"
"Home Late" - Husband and Wife
"I Remember" - Butler
"Assignation" - Jock, Cynthia, Essie, Waiter, Counterman, Man at Center Table, Max and Other Patrons
"Where Did We Go? Out"
"Too Young to Live"
"Overspend"
Act II
"Girls and Boys" - Observer, Mother, Groom, Bride, Best Man, Father, Maid of Honor, Bridesmaids and Guests
"Nightflight" - Passenger, Girl, Man, Hostess, Mother and Four People
"Light Travelin' Man" - Girls
"He and She" - He, Goat, Skunks, Rabbits, Ducks, Wolf, Lamb, She, Snake and It
"Old-Fashioned Girl" - Doorman, Monroe Fuller, Tawny, Usher, Treasurer, Male Dancer and Show Girls
"Hostility" - Husband and Wife
"Nobody Else But You"
"Finale" - Company
Ad blocker interference detected!
Wikia is a free-to-use site that makes money from advertising. We have a modified experience for viewers using ad blockers

Wikia is not accessible if you've made further modifications. Remove the custom ad blocker rule(s) and the page will load as expected.