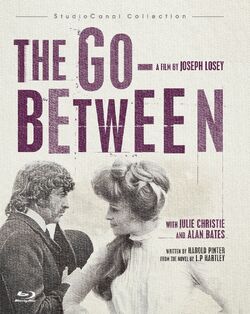 The Go-Between is a 1971 film based on the L.P. Hartley novel of the same name.
Singing cast
Edit
Non-singing cast
Edit
The story follows a young boy named Leo Colston, who in the year 1900 is invited by a school friend, Marcus Maudsley, to spend the summer holidays at a Norfolk country house occupied by his family. While Leo is there, Marcus is taken sick, and Leo finds himself becoming a messenger (go-between) carrying messages between Marcus's older sister, Marian Maudsley, and a farmer neighbour, Ted Burgess, with whom she is secretly in love. However, her parents want her to become engaged to the owner of the house and estate, Hugh, Viscount Trimingham. A heatwave leads to a thunderstorm, which coincides with Leo's birthday party and the climax of the film, when Marion's mother and Leo find Marion and Burgess making love in an outbuilding. This event has a long-lasting impact on Leo, and Burgess shoots himself with his own gun in his farmhouse kitchen.
More than fifty years later, Marion, now the Dowager Lady Trimingham, sends for Leo, wanting him to speak to her grandson to explain to him that she had truly loved Burgess. She asks Leo whether her grandson reminds him of anyone, and he replies "Yes. Ted Burgess".
Musical numbers
Edit
"Take a Pair of Sparkling Eyes" - Ted
"Angels, Ever Bright and Fair" - Leo
Ad blocker interference detected!
Wikia is a free-to-use site that makes money from advertising. We have a modified experience for viewers using ad blockers

Wikia is not accessible if you've made further modifications. Remove the custom ad blocker rule(s) and the page will load as expected.