This is about the animated film. For the original film, see The King and I (1956 film). For the musical one which they are based, see The King and I (musical).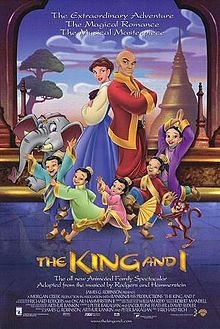 The King and I is an animated adaptation of the musical of the same name.
Singing cast
Edit
Non-singing cast
Edit
In 1862 Siam, the King of Siam rules with traditional beliefs and refusal to change. With the arrival of Englishwoman Anna Leonowens and her son Louis, his villainous Prime Minister, the Kralahome, plots to have the King overthrown with deceit.
At the same time, the Crown Prince Chulalongkorn falls in love with Tuptim, a servant given to the King as a gift from Burma, but their love and friendship must remain a secret as such is strictly forbidden.
Musical numbers
Edit
"I Whistle a Happy Tune" - Anna, Louis and Chorus
"Hello, Young Lovers" - Anna
"Getting to Know You" - Anna and Children
"Shall I Tell You What I Think of You?" - Anna
"A Puzzlement" - King
"I Have Dreamed" - Chulalongkorn and Tuptim
"Prayer to Buddha" - King and Anna
"Anna Remembers/Shall We Dance Fantasy" - Anna
"Shall We Dance? (Finale)" - Anna and King
Ad blocker interference detected!
Wikia is a free-to-use site that makes money from advertising. We have a modified experience for viewers using ad blockers

Wikia is not accessible if you've made further modifications. Remove the custom ad blocker rule(s) and the page will load as expected.