This is about the television series. For the film on which it is based, see The Little Mermaid (1989 film).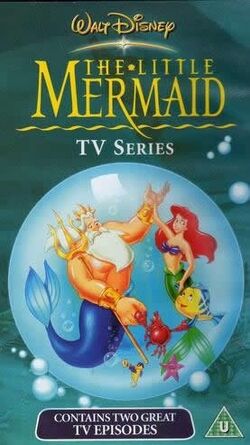 The Little Mermaid is an animated television series based on the films of the same name.
Cast
Singing cast (regular)
Singing cast (recurring/guest)
Non-singing cast
Plot
The Little Mermaid television series is a prequel to the movie of the same name. The story is set before the events in the 1989 film, and follows Ariel's adventures as a mermaid still living under the sea with her father, Sebastian the crab and Flounder the fish. Various episodes highlight her relationship with her friends, father and sisters, and usually involves Ariel foiling the attempts of various enemies that intend ill harm to her or her kingdom.
Musical numbers
Series One
Whale of a Tale
"Just a Little Love" - Ariel
"You Got to Be You" - Sebastian
Urchin
"The Lobster Monster's Mob" - Lobster and Da Shrimp
Double Bubble
"Da Beddie Bye Blues" - Lobster and Da Shrimp
Message in a Bottle
"Sing a New Song" - Simon and Ariel
The Evil Manta
Red
"Dis is De Life" - Sebastian
Series Two
Resigned to It
"Never Give It Up" - Ariel and Sebastian
Against the Tide
Giggles
"The Sound of Laughter" - Sebastian
Wishing Upon a Starfish
"Daring to Dance" - Ariel
Series Three
Scuttle
"Just Give Me a Chance" - Scuttle
A Little Evil