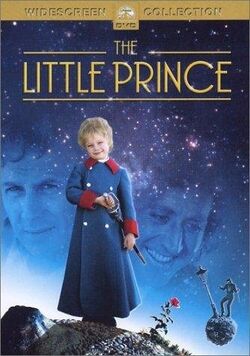 The Little Prince is a 1974 fantasy film based on the novella by Antoine de Saint-Exupéry.
An aviator is forced to make an emergency landing in the Sahara Desert. There he is befriended by a young boy, the Little Prince, who had descended to Earth from Asteroid B-612. In the days that follow, The Pilot hears about his past and various journeys throughout the solar system.
As he travels through space, the Little Prince encounters several strange grown-ups on different planetoids, all with a skewed or curious way of looking at life. But it is not until he finally reaches Earth, that the Little Prince learns his most important life lessons of all, mainly from The Fox, and The Snake. Before the Little Prince dies, he shares those lessons with The Pilot.
Musical numbers
Edit
"I Need Air (It's A Hat)" - The Pilot, Chorus
"Be Happy" - The Rose
"I'm on Your Side" - The Pilot
"You're a Child" - The King and The Businessman
"I Never Met a Rose" - The Pilot
"Why is the Desert" - The Pilot and The Little Prince
"A Snake in the Grass" - The Snake
"Closer and Closer and Closer" - The Fox and The Little Prince
"Little Prince" - The Pilot
"Finale - The Little Prince" - Chorus
Ad blocker interference detected!
Wikia is a free-to-use site that makes money from advertising. We have a modified experience for viewers using ad blockers

Wikia is not accessible if you've made further modifications. Remove the custom ad blocker rule(s) and the page will load as expected.