This is about the film. For the stage musical, see The Molly Maguires (musical).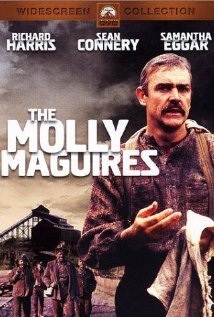 The Molly Maguires is a 1970 film based on the novel by Arthur H. Lewis.
Singing cast
Edit
Non-singing cast
Edit
The Molly Maguires were a secret organization of Irish coal miners established in nineteenth century Pennsylvania to fight oppressive mineowners. Led by Jack Kehoe, they plant dynamite to destroy plant shafts and equipment. Pinkerton Detective James McParland is employed to infiltrate the Mollies.
Kehoe and McParlan are working class immigrants from Ireland with essentially the same aspiration - advancement in the new society to which they have come. McParlan coldly betrays the group whose leader he has befriended and Kehoe kills to advance his cause. McParlan also develops a romantic interest in Mary Raines, but she ends up offended by his treachery.
Awaiting execution, Kehoe tells his erstwhile ally that no punishment short of hell can redeem his treachery; Detective McParlan retorts that in that case, "See you in hell."
Musical numbers
Edit
"Eileen Aroon" - James and Mary
Ad blocker interference detected!
Wikia is a free-to-use site that makes money from advertising. We have a modified experience for viewers using ad blockers

Wikia is not accessible if you've made further modifications. Remove the custom ad blocker rule(s) and the page will load as expected.