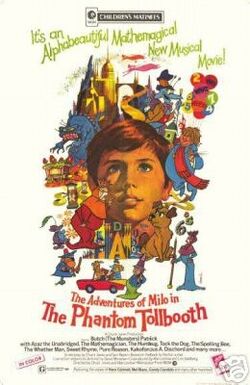 The Phantom Tollbooth is a 1968 animated adaptation of Norton Juster's book of the same name.
Singing cast
Edit
Non-singing cast
Edit
June Foray - Princess of Pure Reason, Faintly Macabre the Which, Ralph
Patti Gilbert - Princess of Sweet Rhyme
Les Tremayne - The Humbug
Milo, a bored, lonely boy who lives in a San Francisco apartment block all by himself, is surprised by the sudden arrival of a large, gift-wrapped package. Inside is a tollbooth, which turns out to be a gateway into a magical parallel universe. As Milo passes through the tollbooth, the character moves from live action to animation, and his toy car transports him to the enchanted Kingdom of Wisdom in the Lands Beyond, and the cities of Dictionopolis and Digitopolis.
Accompanied by Tock, a "watchdog" who actually has a large pocketwatch in his body, Milo has a series of adventures in places like the Mountains of Ignorance, the Doldrums, Dictionopolis, Digitopolis, and the Castle in the Air. Together they must rescue the Princesses Rhyme and Reason, who are being held captive in the Castle in the Air, and restore order to the Kingdom of Wisdom. The many eccentric characters they meet include the Humbug, the noisy Dr. Dischord, the Mathemagician, King Azaz, the Senses Taker, and Officer Short Shrift.
Musical numbers
Edit
"Milo's Song" - Chorus
"Don't Say There's Nothing to Do in the Doldrums" - Milo and the Lethargians
"Time Is a Gift" - Tock and Milo
"Noise, Noise, Beautiful Noise" - DYNNE
"Word Market" - King Azaz
"Numbers Are the Only Thing That Count" - The Mathmatician
"Rhyme and Reason Reign" - Chorus
Ad blocker interference detected!
Wikia is a free-to-use site that makes money from advertising. We have a modified experience for viewers using ad blockers

Wikia is not accessible if you've made further modifications. Remove the custom ad blocker rule(s) and the page will load as expected.