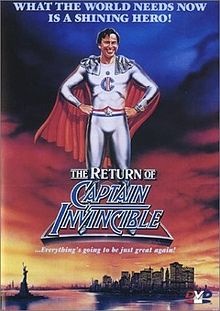 The Return of Captain Invincible is a musical superhero comedy film.
Singing cast
Edit
Non-singing cast
Edit
Captain Invincible (also known as "Legend in Leotards", "The Caped Contender", and "Man of Magnet"), once a popular hero to all Americans, he is forced into retirement by McCarthy-style government persecution in the 1950s.
A congressional investigation accuses him of being a communist, citing his red cape and "premature anti-fascism". He is charged with violating U.S. airspace by flying without a proper license, impersonating a military officer, and wearing underwear in public. He disappears from the public eye, moving to Australia and becoming an alcoholic.
Thirty years later, his old rival, "Mr. Midnight", re-emerges and steals a secret government super-weapon: the hypno-ray. The US government asks Captain Invincible to return, and the story follows his attempts to return to super-heroing and redeem his reputation.
Musical numbers
Edit
"Captain Invincible" - Narrator
"Bullshit" - The President
"We Need a Hero" - The President and Chiefs of Staff
"Give My Regards to Broadway" - Captain Invincible
"Amazing How They're Alike" - Captain Invincible
"Evil Midnight" - Captain Invincible, Mr. Midnight and his girls
"Into the Blue" - Captain Invincible
"The World I Knew' - Captain Invincible
"Name Your Poison" - Mr. Midnight and his girls
Ad blocker interference detected!
Wikia is a free-to-use site that makes money from advertising. We have a modified experience for viewers using ad blockers

Wikia is not accessible if you've made further modifications. Remove the custom ad blocker rule(s) and the page will load as expected.