This is about the 2010 musical. For other productions of the same name, see The Secret Garden (disambiguation).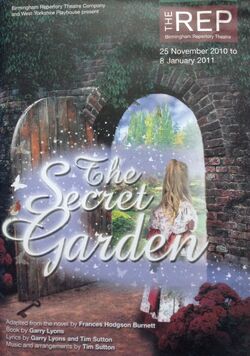 The Secret Garden is one of three musicals based on the book by Frances Hodgson Burnett.
Musical numbers
Edit
Act One
"Scartop Moor"
"Shanty"
"Train"
"Horse Ride"
"Jack Frost"
"Bed!"
"Lullaby"
"Swing Song"
"He's Back"
"Little Laura"
"Cabbage Song" - Ben
"A Little Breath of Wind"
"Mary at the Door" - Mary
Act Two
"Crow Tree Fell"
"Dickon and Mary" - Dickon and Mary
"Colin's Song" - Colin
"Colin's March" - Colin, Mary and Dickon
"The Garden Song"
"That Girl" - Percival
"Thorns"
"Chant"
"Lake Como"
"Garden Song" (reprise) - Company
Ad blocker interference detected!
Wikia is a free-to-use site that makes money from advertising. We have a modified experience for viewers using ad blockers

Wikia is not accessible if you've made further modifications. Remove the custom ad blocker rule(s) and the page will load as expected.