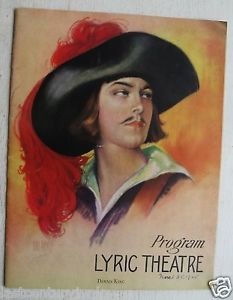 The Three Musketeers is a stage musical based on the Alexandre Dumas novel of the same name.
In early 17th century France, the poor but virile d'Artagnan travels to Paris to join the Musketeers (the King's bodyguard). He meets and falls in love with Lady Constance Bonacieux, a lady-in-waiting to Queen Anne. Meanwhile, Cardinal Richelieu learns that the Queen has given a diamond heart brooch, which was a present to her from the King, as a token of love to the Duke of Buckingham. Richelieu suggests that the King ask the Queen to wear it at a planned royal gala. Richelieu dispatches the Comte de Rochefort and Lady de Winter to London to recover the gem, which he plans to unveil at the gala in order to reveal that the Queen has been unfaithful.
The Queen asks her lady-in-waiting, Constance Bonacieux, to involve the Musketeers in the jewel's speedy recovery so that she might foil the plot. But when the Musketeers reach London, they are too late: Lady de Winter has arrived first. D'Artagnan uses his seductive charms upon Lady de Winter and steals the bauble. After a rousing sword fight, the Musketeers kill de Rochefort and rush back to Paris just in time to bring the jewel to the gala. King Louis fastens it to the Queen's shoulder just as he did when he first gave it to her.
Musical numbers
Edit
Act I
"Summer Time" – Villagers
"All for One" – Aramis, Athos and Porthos
"The 'He' for Me" – Constance, Girls, Aramis, Athos and Porthos
"My Sword" – D'Artagnan and Company
"Heart of Mine" – D'Artagnan and Constance
"My Sword and I" – D'Artagnan and Villagers
"Vesper Bell" – The Pensionaires
"Dreams" – Queen Anne
"Te Deum" – D'Artagnan and Nuns
"March of the Musketeers" – D'Artagnan, Athos, Porthos, Aramis and Musketeers
"Colonel and Major" – Planchet and Girls
"Love is the Sun" – Queen Anne, Constance and The Duke of Buckingham
"Heart of Mine" (reprise) – Constance and D'Artagnan
"Welcome to the Queen" – Ladies and Courtiers
Act II
"With Red Wine" – Porthos and Company
"My Belle" – Aramis
"Kiss Before I Go" – Constance and D'Artagnan
"Pages" – Albertina Rasch Dancers
"Queen of My Heart" – The Duke of Buckingham
"Gossip" – Planchet and Ladies
"Until We Say Goodbye" – Constance Bonacieux
Ad blocker interference detected!
Wikia is a free-to-use site that makes money from advertising. We have a modified experience for viewers using ad blockers

Wikia is not accessible if you've made further modifications. Remove the custom ad blocker rule(s) and the page will load as expected.