This is about the film. For the stage musical, see The Water Babies (musical).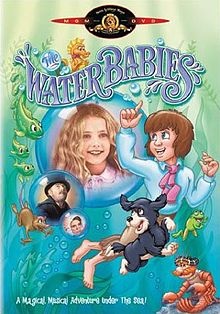 The Water Babies is a live action/animated film based on Charles Kingsley's novel of the same name.
Singing cast
Edit
Non-singing cast
Edit
When 12-year-old chimney sweep Tom is wrongfully blamed for being a thief, he makes a run for it and ends up jumping into a violent river. There he encounters a civilization of anthropomorphic underwater creatures. Before he can return to the surface and clear his name, however, he must help rescue his new friends, the Water Babies, from their nemesis, the Killer Shark.
Musical numbers
Edit
"High Cockalorum" - Jock and Tom
"High Cockalorum II" - Terence, Jock and Tom
"High Cockalorum III" - Claude, Terence, Jock and Tom
Ad blocker interference detected!
Wikia is a free-to-use site that makes money from advertising. We have a modified experience for viewers using ad blockers

Wikia is not accessible if you've made further modifications. Remove the custom ad blocker rule(s) and the page will load as expected.