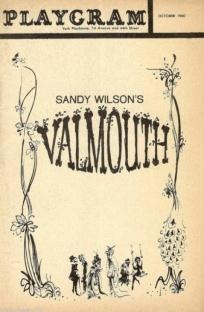 Valmouth is a musical based on the 1919 novel by Ronald Firbank.
Mrs Yajnavalkya, the exuberant black masseuse, sets up her establishment in Valmouth where the aphrodisiac air ensures longevity for all who breathe it, from the erotic to the exotic, the comical to the incredible. Not surprisingly, therefore, every season brings an influx of regular visitors to this fashionable spa to swell the array of dazzling fantastics, among them the ageing nymphomaniac Lady Parvula. With the help of Mrs Yaj, Lady Parvula tries to seduce the virile young David Tooke who steadfastly rejects her shameless advances, while his sister Thetis imagines herself the bride of Captain Dick Thoroughfare, heir to the wealthy, Catholic, Mrs Hurstpierpoint of Hare Hatch House. But Dick is secretly married to Mrs Yaj's niece Niri-Esther, which he announces on the night of the Centenarians' Ball together with the news that Niri is pregnant.
To nearly everyone's horror Mrs Hurstpierpoint welcomes the girl, fancying her as an infidel convert to Catholicism, and organises plans for a wedding and christening presided over by Cardinal Pirelli. But the nuptials are prevented at the eleventh hour by the excommunication of the Cardinal and the total destruction of Valmouth. Only Niri and Mrs Yaj survive and back on their native tropical island Mrs Yaj regrets the passing of Valmouth.
Musical numbers
Edit
"Opening/Valmouth" - Company
"Magic Fingers" - Mrs Vajnanalkaya
"Mustapha" - Mrs Vajnanalkaya
"I Loved a Man" - Thetis Tooke
"What Then Can Make Him Come So Low?" - Niri-Esther
"All the Girls Were Pretty" - Mrs Hurstpierpoint, Lady Parvula, Mrs Thoroughfare
"Just Once More" - Lady Parvula
"Lady of the Manor" - Niri-Esther
"What Do I Want With Love" - David Tooke
"My Big Best Shoes" - Mrs Vajnanalkaya, Grannie Tooke
"Niri-Esther" - Jack Whorwood, Captain Dick
"The Cry of the Peacock" - Mrs Vajnanalkaya
"Little Baby Girl" - Mrs Vajnanalkaya
"The Cathedral of Clemenza" - Cardinal Pirelli
"Only a Passing Phase" - Lady Parvula
"Valmouth" - Captain Dick
"Where the Trees Are Green With Parrots" - Niri-Esther
"My Talking Day" - Sister Ecclesia
"I Will Miss You" - Grannie Tooke, Mrs Vajnanalkaya
"Finale/Valmouth" - Company
Ad blocker interference detected!
Wikia is a free-to-use site that makes money from advertising. We have a modified experience for viewers using ad blockers

Wikia is not accessible if you've made further modifications. Remove the custom ad blocker rule(s) and the page will load as expected.