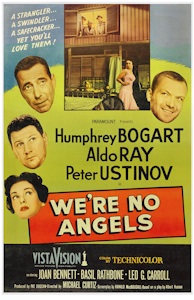 We're No Angels is a 1955 comedy film.
Singing roles
Edit
Non-singing roles
Edit
Three convicts – Joseph, Albert and Jules – escape from prison on Devil's Island just before Christmas and arrive at a nearby French colonial town. They go to a store managed by the Ducotel family, the only one to give supplies on credit. While there, they notice its roof is leaking, and offer to fix it. They do not actually intend to, but decide to remain there until nightfall, when they will steal clothes and supplies and escape on a ship waiting in the harbor. As they wait, they find that the small family of Felix, Amelie, and daughter Isabelle, is in financial distress and offer their services to hide the trio's all-too-sinister ruse. Joseph even gets to work conning people and falsifying records to make the store prosperous. However, the three felons begin to have a change of heart after they fix a delicious Christmas dinner for the Ducotels made mostly of stolen items.
Tensions heighten after store owner Andre Trochard arrives from Paris with his nephew Paul, the light in Isabelle's eye. The Trochards plan on taking over the store, which they perceive is unprofitable due to its use of credit. It turns out that Paul is betrothed to another woman, to Isabelle's dismay. Before any action can be taken, both men are bitten by Albert's pet viper, Adolphe, and die nearly instantly. Isabelle finds another love, and the family is happy as the convicts finally ready for their postponed escape. However, while waiting on the docks for their boat to arrive, the threesome reconsiders. Judging that the outside world is likely to be worse than that of the prison, they decide to turn themselves back in. As they walk toward it at film's end halos appear over their heads...followed by one above the cage of Adolphe.
Musical numbers
Edit
"Sentimental Moments" - Amelie
"Three Angels" - Joseph, Albert and Jules
Ad blocker interference detected!
Wikia is a free-to-use site that makes money from advertising. We have a modified experience for viewers using ad blockers

Wikia is not accessible if you've made further modifications. Remove the custom ad blocker rule(s) and the page will load as expected.