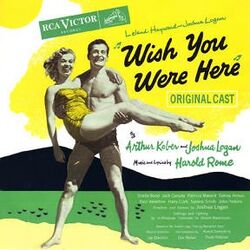 Wish You Were Here is a stage musical based on the Arthur Kober play Having a Wonderful Time.
Camp Karefree is a mountain resort for adults. Teddy Stern, depressed and stressed about her upcoming marriage to Herman Fabricant, a man she doesn't love, arrives on doctor's orders to get rest. She is met by her flirtatious blonde bombshell friend Fay Fromkin. Fay introduces the social director, Itchy, an all-around entertainer, who is her "special friend". Fay soon becomes entranced with the new athletic director, Harry Green. Before long, Teddy too finds herself becoming entangled romantically with one of the waiters who is also a dancer, charming law student Chick Miller. Since one of his jobs is to dance with the unattached women, Chick spends the evening with Fay.
However, when Chick proposes to Teddy, she turns him down, believing she owes her loyalty to Herman, angering Chick. Teddy enters the bathing beauty contest run by Pinky, but he kisses her, uninvited, and Chick throws him into the pool. Chick leaves with a flirtatious young lady. Pinky comforts Teddy, finally seducing her into spending the night with him—but she passes out. Herman, having forgiven Teddy, and Teddy drives away. But Herman returns with two suitcases, and Teddy falls into Chick's arms. Chick now has the engagement ring, which he gives to Teddy.
Musical numbers
Edit
Act 1
"Camp Karefree" – Lou Kandel, Waiters and Ensemble
"Goodbye Love "– Teddy Stern, Fay Fromkin and Girls
"Social Director" – Itchy Flexner and Ensemble
"Shopping Around" – Fay Fromkin
"Bright College Days" – Waiters
"Mix and Mingle" – Chick Miller and Waiters
"Could Be" – Teddy Stern and Girls
"Tripping the Light Fantastic" – Ensemble
"(Ballad of a) Social Director" (Reprise)- Itchy Flexner and Ensemble
"Where Did the Night Go?" – Chick Miller, Teddy Stern and Ensemble
"Certain Individuals" – Fay Fromkin and Ensemble
"They Won't Know Me" – Chick Miller
"Summer Afternoon" – Pinky Harris and Ensemble
Act 2
"Where Did the Night Go?" (Reprise)- Eli and Ensemble
"Don Jose (of Far Rockaway)" – Itchy Flexner and Ensemble
"Everybody Love Everybody" – Fay Fromkin and Ensemble
"Wish You Were Here" – Chick Miller and Waiters
"Relax" – Pinky Harris and Teddy Stern
"Where Did the Night Go?" (Be-Bop Version)- Fay Fromkin and Ensemble
"Flattery" – Teddy Stern and Itchy Flexner
"Finale" – Entire Company